Hello friends,
Greetings from Barcelona.☀️
🙌Many thanks for reading The Quest, your weekly round-up of tips and insights to help you design and lead exceptional online sessions that your group members will love.❤️
If you were forwarded this email, you can subscribe and receive The Quest straight to your inbox every Monday👇
---
Let's jump right in.
So it's time to start the group discussion in your session. 😃
You launch your first question to get the conversation rolling. Someone raises their hand. "Phew," you think to yourself. You've avoided the dreaded awkward silence. "This is going to be a breeze!"
Turns out it's not so easy. 😬
Before you know it, the conversation has been hijacked by a small number of group members. In no time they have taken the discussion on a massive tangent. You notice that a few people have turned their cameras off. And a few more have dropped off the call.
You start to panic. 😳
Not seeing people's faces makes you lose track of what's happening. You have forgotten your key points. You are waiting for the right moment to jump in (but it never arrives). You are way over time. And the discussion never really takes off.
Don't leave group discussion to chance. 💪
If this has happened to you don't worry. It's very easy for group discussions to go off the rails. Exceptional group discussions don't happen by accident. You need to actively facilitate them.
There are tools to help you. ⚒️
There are tools and strategies that you can use to actively guide group discussions. The problem is that most people don't know about them. But when you use them you'll create space for people to reflect and discover new insights. And that's where you'll see the magic of facilitation in action.
What are the secret tools for facilitating exceptional group discussions? That's our Quest for this week. 🔎
👉Verbal Tools for Group Facilitation @ Session Lab
👉How to Ask Good Debriefing Questions @ Playmeo
👉4 Questions Under 4 Words Each @ Chad Littlefield
---
🗣️Session Lab's Verbal Tools for Group Facilitation
I stumbled across this brilliant Session Lab resource a while ago completely by chance. It helped me understand the full range of tools I can use for facilitating exceptional group discussions.
And I use a combination of these tools in every group discussion I lead.
Here they are👇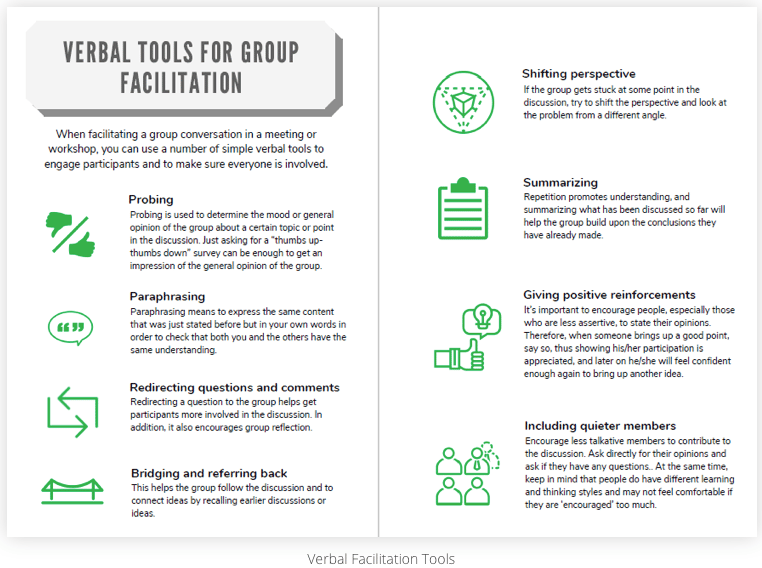 Which tool would help you lead better discussions?
I'd like to get better at using shifting perspectives.
---
🤔Playmeo's How to Ask Good Debriefing Questions
In this 3-minute video Playmeo founder Mark Collard shares his tips on how to lead an effective debrief.
Here's the summary👇
1/ Frame your debrief. This helps your group prepare to think and reflect on their experience.
2/ Pause after your question. This gives your group members time to think and space for them to step in
3/ Ask short questions. Keeping it brief avoids confusion.
4/ Connect questions to your goals. This helps your group members understand the "why".
​
---
❓4 Questions Under 4 Words Each from Chad Littlefield
Speaking of keeping your questions short here's a video from seasoned facilitator Chat Littlefield with 4 short questions and why they are so powerful.
Here are the 4 questions👇
1/ What brings you joy?
2/ What struck you?
3/ How might we?
4/ What else?
Watch the full video 👉here.
​
​
---
✍️Quote of the Week
"We do not learn from experience… we learn from reflecting on experience."
​
John Dewey, American Philosopher, Psychologist, and Educational Reformer
---
💌Thanks for reading The Quest
I always love hearing your feedback and suggestions. Just hit reply to share your thoughts and ideas.
If you were forwarded this email, you can subscribe to The Quest 👉here.​
If you enjoy The Quest, I'd appreciate it if you shared it with anyone you think might like it.
Creatively yours,
Whenever you are ready there are 2 more ways I can help you:
👉Custom coaching & team training. Book a free 15-minute zero-commitment call with me to see how I can support you and your team.
👉5-week Live Online Course. The Breakthrough Facilitation course gives you tools, personalized feedback, and a proven framework for designing and leading high-engagement live sessions. Join the interest list and be the first to get the next cohort dates and discounts.