Hello friends,
Greetings from Barcelona.☀️
🙌Many thanks for reading The Quest, your weekly round-up of tips and insights to help you design and lead exceptional online sessions that your group members will love.❤️
If you were forwarded this, you can subscribe and receive The Quest straight to your inbox every Monday👇
---
📢 Registration for Breakthrough Facilitation Opens This Week!
I am really excited to announce that registration for the autumn cohort of my live online course Breakthrough Facilitation opens on September 6th🎉
This course is for you if you are serious about leveling up your skills in designing and leading exceptional online sessions. 💪
Join the interest list and you'll be the first to get course dates and special discounts. And you'll have first dibs on one of the 20 spots available👇
Check out the free demo happening on Thursday. Keep scrolling down to find out more…
---
🤔Can you think of a breakthrough you've had in your life?
I can. I was in grade 10. It was in Mrs. Wei's math class. For years I had been struggling with math. I had resigned myself to the fact that I wasn't good at math.
I had already accepted that I was doomed to fail, again.
I found a seat in the back of the class with some other friends who also struggled with math. At least we could pass the time chatting about more interesting stuff. 😅
Mrs. Wei had a radically different idea.
She had seen countless students like me walk through her door. And she knew exactly what to do.
She changed the environment.
Before I could settle into the back row, Mrs. Wei moved me to the front of the class. This way I'd have fewer distractions. And I'd have to pay attention.
She lowered the barriers to success.
She gave me a bunch of easy exercises and then made them gradually harder. This gave me some quick wins. And it gave me a better idea of where I was having problems.
She reframed the problem.
She knew that the problem wasn't that I wasn't good at math. The real problem was that I didn't believe I was good at math. And that prevented me from even trying.
And I had a big breakthrough.
Mrs. Wei's method worked. My grades shot up. And so did my confidence in math. It was a major breakthrough. It meant that I got the grades I needed to get into university. And it's helped me advance in my career.
You can create the conditions for breakthroughs to happen.
When you lead live sessions, you can't make people have breakthroughs. But you can open up the possibility for breakthroughs to happen. It can help your group members get unstuck and reveal new solutions.
What can you do to create the conditions for your group members to have breakthroughs? That's our Quest for this week. 🔎
👉 Insights from Anatomy of a Breakthrough book
👉 How to facilitate breakthrough experiences
👉Join me for a FREE demo of Breakthrough Facilitation on Sept 7
---
📙Insights from Anatomy of a Breakthrough Book
All of us go through episodes of being stuck. Be it at work, with creative pursuits, or in relationships – just to name a few examples.
What if there was a proven plan to get unstuck and breakthrough?
That's the question that Adam Alter seeks to answer in his book Anatomy of a Breakthrough.
This is the best book on breakthroughs that I've read.
Alter is a professor of marketing and psychology at the Stern School of Business. It's full of interesting case studies and examples from science, business, and creativity that show you how to get unstuck.
He breaks down the sticking points into 3 realms:
Head (unhelpful thoughts like overcomplicating things)
Heart (unhelpful emotions like paralyzing anxiety)
Habits (unhelpful behaviors like clinging to the status quo)
Here are 3 takeaways that helped me understand how breakthroughs happen:
👉Getting unstuck almost always takes longer than we expect. Too often we surrender just a few steps short of the finish line.
👉Aha! moments are more likely to arise the longer you spend immersed in a creative pursuit. You may not know when breakthroughs are going to happen. But you'll have a better chance of stumbling on them if you give them time to flourish.
👉The richest advances come from getting stuck and then unstuck over and over. Over time your ideas improve. You discard strategies and approaches that don't work.
He finishes the book with 100 ways to get unstuck like "look for small steps", "make room for failure", and "when you are stuck, act."
What's your go-to strategy for getting unstuck?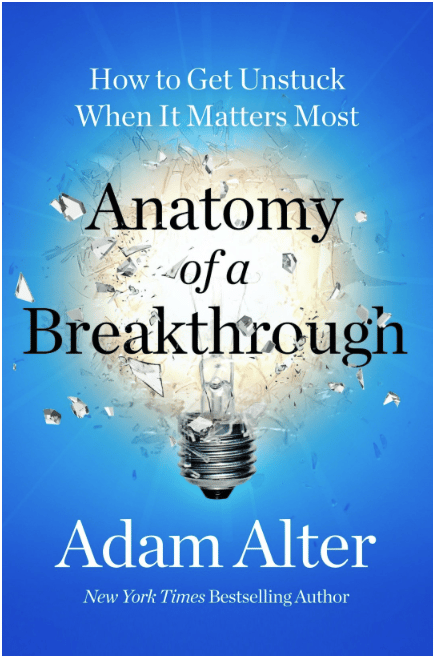 ---
💥10 Simple Strategies for Facilitating Breakthroughs in Your Live Sessions
When you lead live sessions you can't make your group members have breakthroughs. But you can create the conditions for breakthroughs to happen.
How? Read my new blog with 10 Simple Strategies for Facilitating Breakthroughs In Your Live Sessions.
How do you facilitate breakthroughs for your groups?
---
---
💌Thanks for reading The Quest
I always love hearing your feedback and suggestions. Just hit reply to share your thoughts and ideas.
If you were forwarded this email, you can subscribe to The Quest 👉here.​
If you enjoy The Quest, I'd appreciate it if you shared it with anyone you think might like it.
Creatively yours,
Whenever you are ready there are 2 more ways I can help you:
👉Custom coaching & team training. Book a free 15-minute zero-commitment call with me to see how I can support you and your team.
👉5-week Live Online Course. The Breakthrough Facilitation course gives you tools, personalized feedback, and a proven framework for designing and leading high-engagement live sessions. Join the interest list and be the first to get the next cohort dates and discounts.