Hello Friends!
Greetings from Barcelona☀️. Many thanks for your feedback on the last edition. See the new special shout out section below 🙌. If you are joining The Quest for the first time, welcome to our weekly exploration of creativity, facilitation, and learning. You can catch up on past editions here.
In this edition: How can we become better online facilitators by tapping our inner performer with mmhmm while Zooming in style? That's our Quest this week.
A video conferencing tool that my husband introduced me to. OMG! I haven't had this much fun with an app in ages. Mmhmm's mission is to "make video meetings and presentations better than they've ever been" by making it fun and useful, or what they call fuseful. 😅You can use Mmhmm to transform Zoom sessions into a mesmerizing, magical, interactive stage. Here's a 30 second demo of how it works or check out this 5 minute demo by CEO Phil Libin. Mmhmm lets you manipulate and toggle video, slides, and animated backgrounds. You can also re-size and move your own image.
Here are two examples of Mmhmm in action: Bringing Indigenous culture to classrooms and Evolving online classes to keep business school students engaged in Japan by Professor Kawaminami.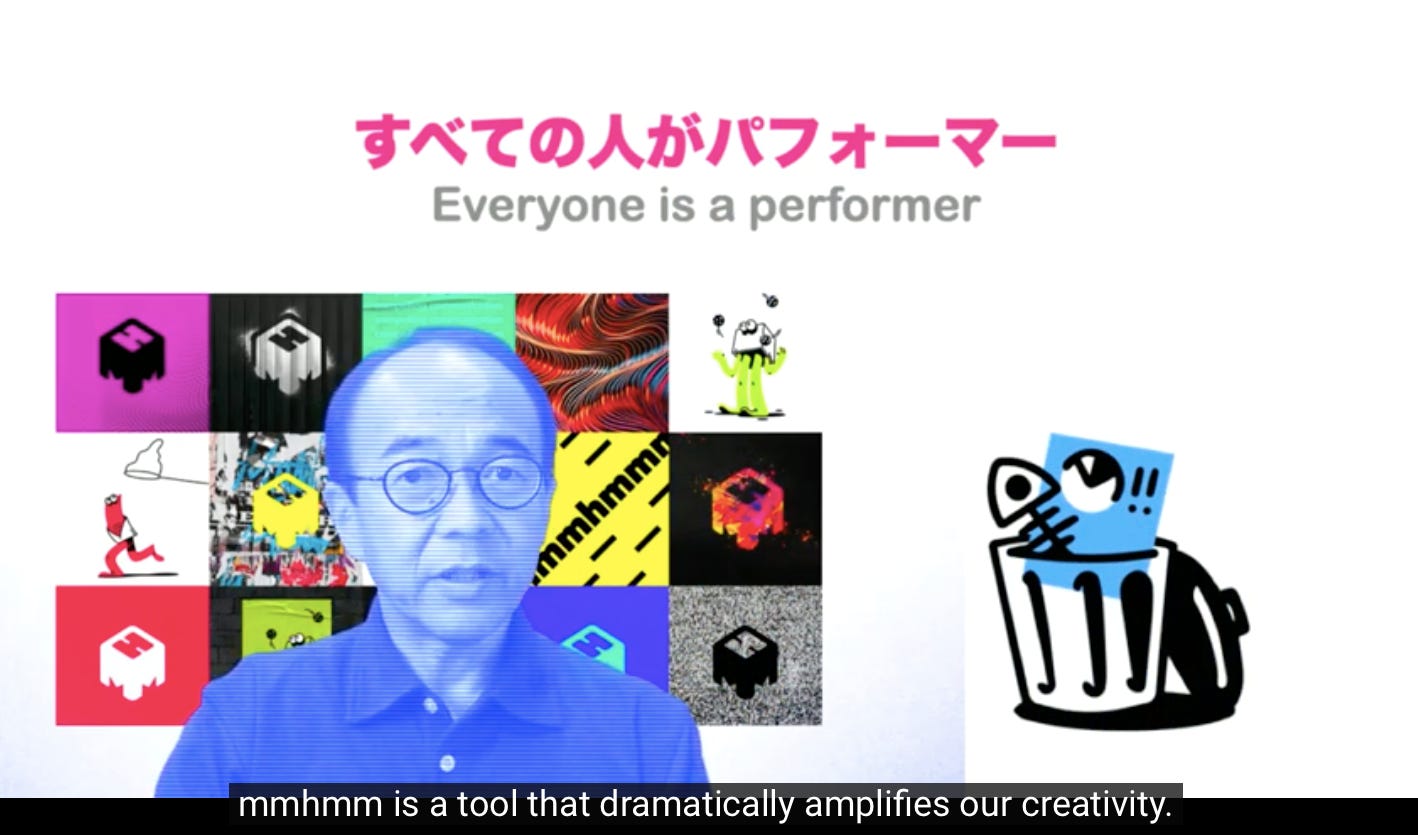 A few caveats:
It's a paid service. They do offer a 1-year free subscription to students and teachers by emailing education@mmhmm.app.
It works better with a green screen, with mac tools, and other A/V equipment.
It can feel a bit gimmicky. It doesn't replace a well designed and facilitated session, but it sure can enhance it.
Wondering what's behind the name mmhmm? This 5 minute video by CEO Phil Libin has the answer. Please, if you do nothing else today watch this video. It's hilarious, and it also breaks down the creative process of coming up with a name, one of the hardest things to do.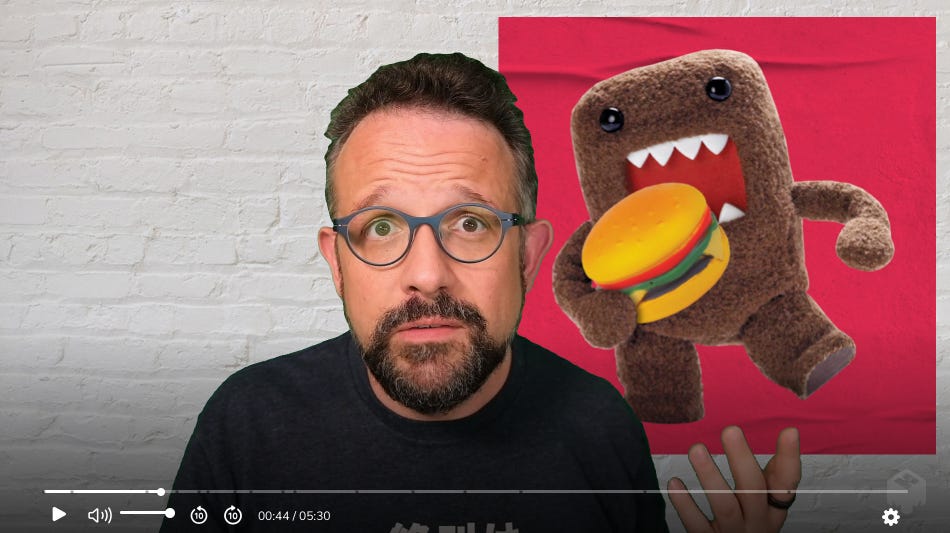 Here are 3 takeaways:
Inject humor: Libin comes up with 6 plausible fake reasons for the name. My favorite? You can say mmhmm while you are eating.
Avoid indifference: The opposite of love is not hate, the opposite of both love and hate is indifference. That's deep.
Everyone is a performer: People perform many times a day. This is a product helps people perform. Every time you say mmhmm it's like a little performance. How brilliant is that?
A video by writer, facilitator, online teacher, and entrepreneur Cam Houser. He is also a true believer in making meaningful connections on Zoom. He argues, that to have better Zoom sessions, we need to be better facilitators 👍. He runs through some of the basics of running an engaging Zoom session. Use music, icebreakers, energizers, and breakout groups. I also gleaned a few new online facilitation tips:
🧟Zoom Zombie Face: You have probably seen the ZZF – I know I have. Houser argues that we don't have the same social pressure to look engaged when we are online that we do in person. So ZZF doesn't necessarily mean that people are disengaging with your session. SAs a facilitator, when you are reading visual cues online, check if your participants are truly bored? Or is it ZZF?
1-2-3 Model: A warm-up approach to online group brainstorming. You start by giving people an opportunity to brainstorm individually first, then in small breakout groups, then in the whole group. It includes less vocal participants and boosts participation.
🌪️Chat Storm: An online icebreaker where all participants, on the count of 3, write how they would say hello to a friend where they are from. For example, "Hey", "Howdy", "What's up" etc… It's a way to connect people in time, rather than space. I can see how this could work really well for a multi-lingual group.
Photo of the Week
This is a photo of the path that I run most mornings. It reminded me of the quote by Spanish poet Antonio Machado, shared by friend Mark Cheng:
"Traveller, there is no path. You make the path by walking".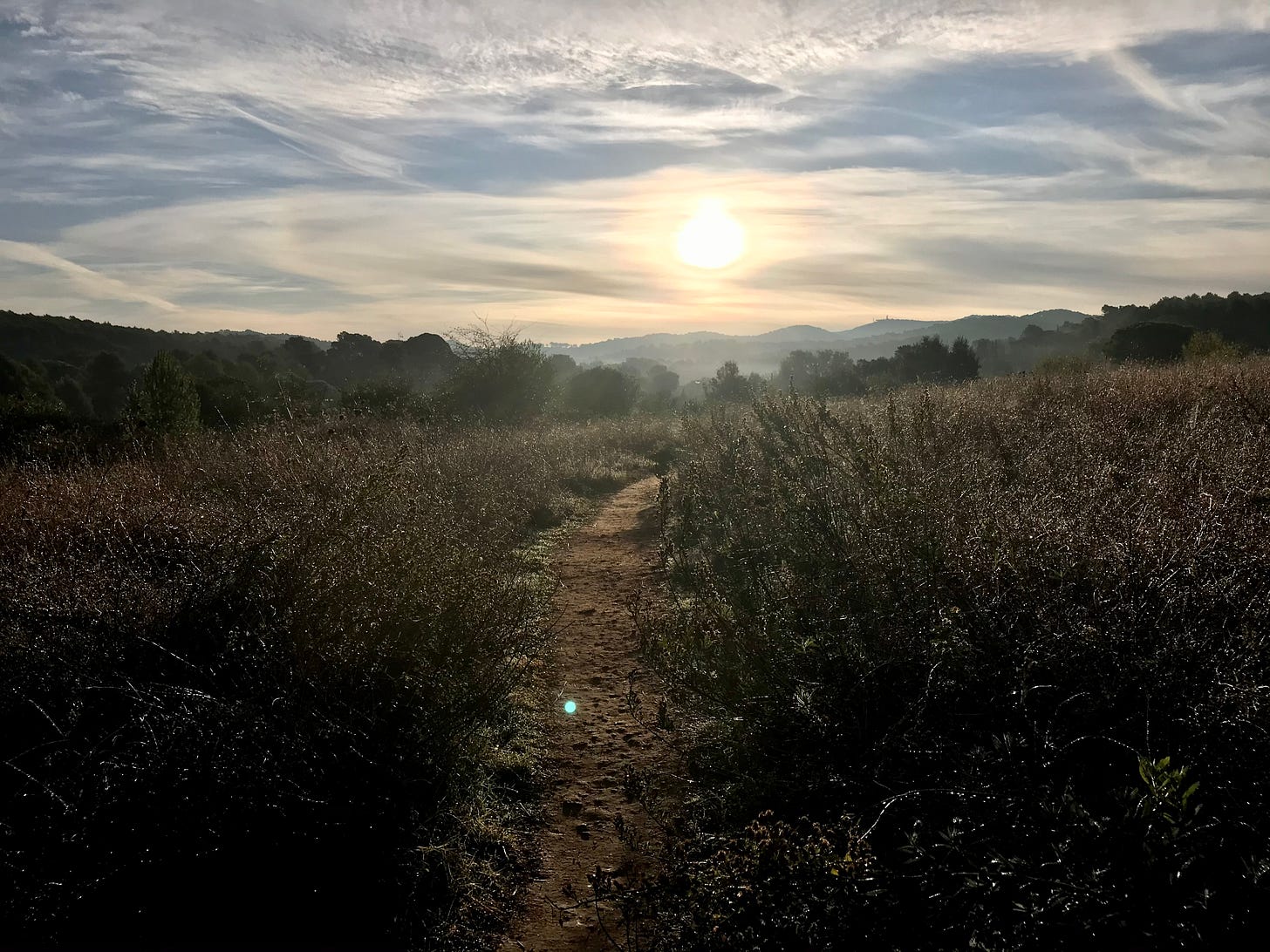 Thanks for reading. I always love hearing your feedback and suggestions. Feel free to email me at gwyn@gwynwansbrough.com.
If you are enjoying The Quest, I'd appreciate it if you shared it with anyone you think might like it.
Until next week!
Gwyn
P.S. I'd like to give a special shout out to Jen in Chicago, Connie in Toronto, Joan in Mansfield, Michaele and Barry in Bracebridge, Ricardo in Bogota, Mamen, Monica, and Jenni in Barcelona, Claudia in London, and Kelly from the traditional territory of her ancestors, the Sylix/Okanagan people. Thanks for your feedback 🙌